The Protest Match - The Finals That Could Have Happened
BACKGROUND

The Taliban take-over of Afghanistan in August 2021 affected many lives, especially those of women. As there were a lot of bans, that were imposed upon them, including the right to play cricket.

But sport has aways been a theatre for women to express their freedom and break the shackles of a patriarchal society. And we wanted the banned women of the Afghanistan Cricket team to have this right - albeit in the virtual world.

To make sure Afghani Women's cricket team do not slip into oblivion, we gave them a chance to play in the ICC Women's World Cup Finals - virtually -as the finals that could have happened.
IDEA
To show our support to the Afghani Women's cricket team, after it got banned by the Taliban, we decided to give them the chance they were robbed of - the chance to participate in ICC Women's World Cup. Hence, we recreated the exact same team that was banned on the popular game Cricket19. We replicated each and every player of the banned Afghanistan Women's cricket team, replicating their real skills, jerseys, jersey numbers, names, playing order, etc. in the virtual world.

Then using one of the biggest gaming platforms STEAM we made this team play virtually on the same day and time when the real ICC women's world cup finals were taking place.

This was perhaps the first time the gaming community played for a social cause and not just for fun.
Case Film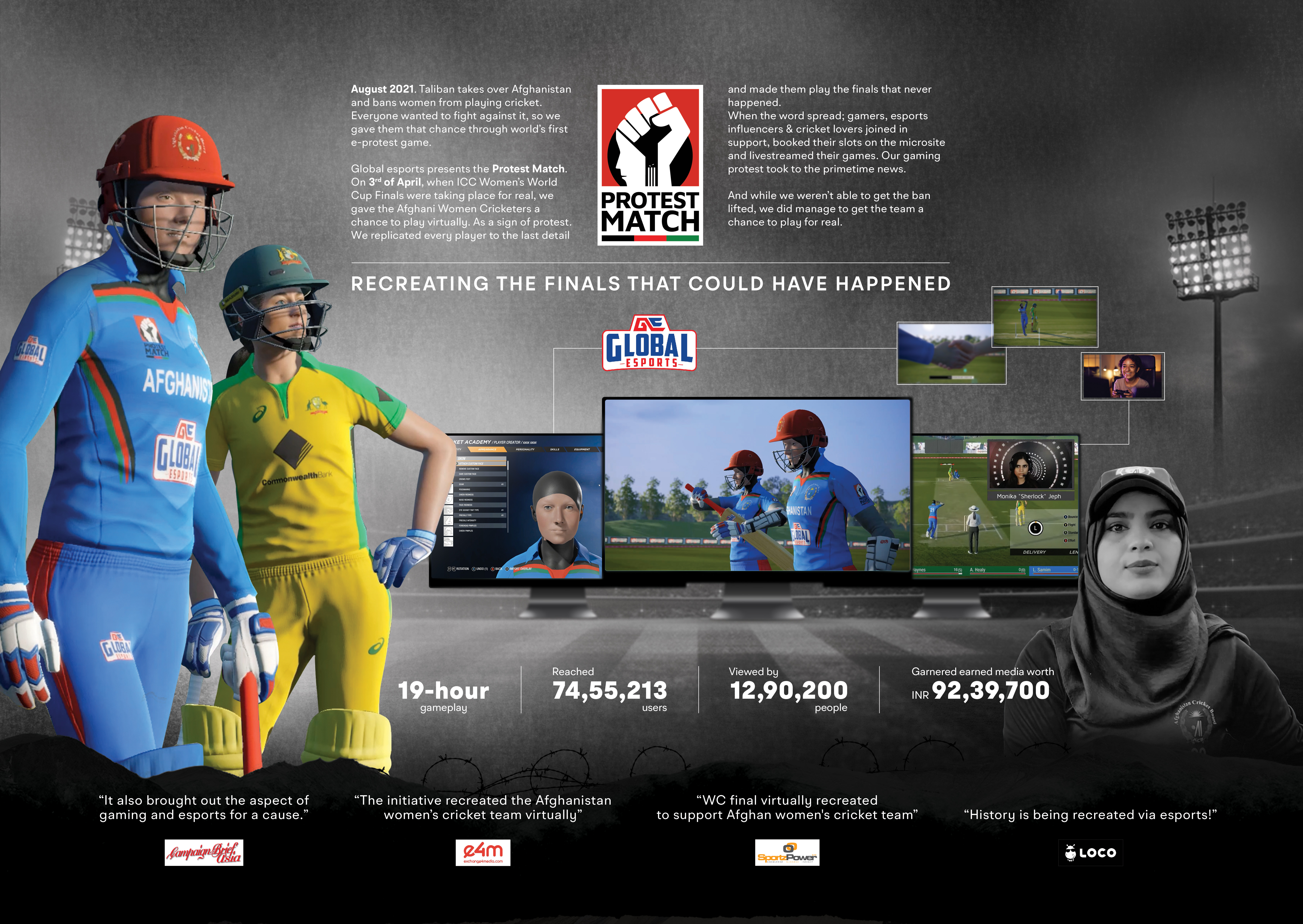 Demo Film
.....................................................

Spikes Asia 2023 - 1 Bronze in Entertainment Sports For Good

Spikes Asia 2023 - 1 Bronze in Entertainment Sports For Good + 3 Shortlists

Cannes Lions 2022 - Shortlisted in Sustainable Development Goals

Kyoorius Creative Awards 2022 - 5 Blue Elephants | 11 Baby Blue Elephants


CEO, Isobar India group: Heeru Dingra
COO, Perfect Relations: Sanjeev Anand
CCO, Isobar India and Taproot Dentsu: Aalap Desai
Managing partner, Isobar India: Rahul Vengalil
Branch director, Perfect Relations: Jyotsna Dash Nanda
Executive creative director, Isobar India: Anadi Sah
Senior vice president, strategy, Isobar India: Pragati Rana
Associate vice president, Isobar India: Prashant Lodaya
Senior creative director, Isobar India: Rohit Mukherjee
Senior creative director, Isobar India: Sreejita Chakraborty
National films head, Isobar India: Taj Ali
Digital production head, Isobar India: Nitish Sarkar
Director, account management, Isobar India: Rumi Behramkamdin
Associate creative director, art, Isobar India: Mayuri Patil
Manager, brand strategy, Isobar India: Varun Sekar
Group head, art, Isobar India: Nitin Dhumal
Lead, innovations, Isobar India: Pratik Shringi
Senior designer, digital production, Isobar India: Kanav Gupta
Designer, digital production, Isobar India: Reuben Hnamte
Regional head, tech, WATConsult: Avinash Tiwari
Senior web developers, WATConsult: Pranali Patil, Asmita Rane
Producer, Isobar India: Chitiz Shandilya
Regional head, planning and strategy, WATConsult: Shanu Jain